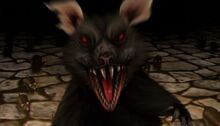 Plagued Rats are the monstrous obstacle seen in the Dark Parables spin-off game of 2012 called Fabled Legends: The Dark Piper. They are rats that have been infected with the Plague and are under the Dark Piper's command. Plagued Rats look just like any other rats, except that their eyes glow a bright rabid red. They tend to travel in packs, summoned by the Pied Piper Flute. Plagued Rats are seen all throughout the town of Hamelin. They kill everyone they encounter and destroy much of the town. Their presence renders an area impassable, as one bite from a Plagued Rat will give you the Plague - and attracting their attention in the first place will cause them to attack en masse. These rats were once perfectly normal rats. However, they were infected with the Plague by the Dark Piper, who then commanded them using the Pied Piper Flute. With the destruction of the rats, as well as the real Flute and all of the clones made by the Viceroy, the Plagued Rats are no longer a threat to mankind.
Powers and Abilities
Edit
Pack Mentality: Due to the influence of the Pied Piper Flute, the rats move as one cohesive force.
The Plague: The rats have been infested with the Plague, making them capable of infecting others. Unlike the Black Death of medieval times, this plague is stronger and more resistant to cures.
Sharp Teeth: Due to the size of the swarms and the ferocity of the rats themselves, these packs are capable of killing a fully grown man in a matter of seconds.